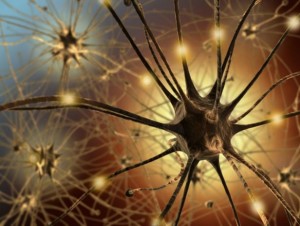 So, I know on my home page I say, "Make brain plasticity a part of your everyday experience." But, the fact of the matter is that you already are.  In this TED talk Dr. Laura Boyd explains:
https://www.youtube.com/watch?v=LNHBMFCzznE
This is so cool!! My favorite part is the comment about how you are making plastic changes in your brain by what you are doing and what you aren't doing.  You can choose how you want to shape your brain!!  Those little flashes of light in the photo above are the connections between the neurons that feed them to grow them the way you want too!!  Open up, feel some ease. You don't need to push.  Just let it go!!  Have some fun!  Join me for a Feldenkrais Lesson!
Cheers!         Sandy  🙂